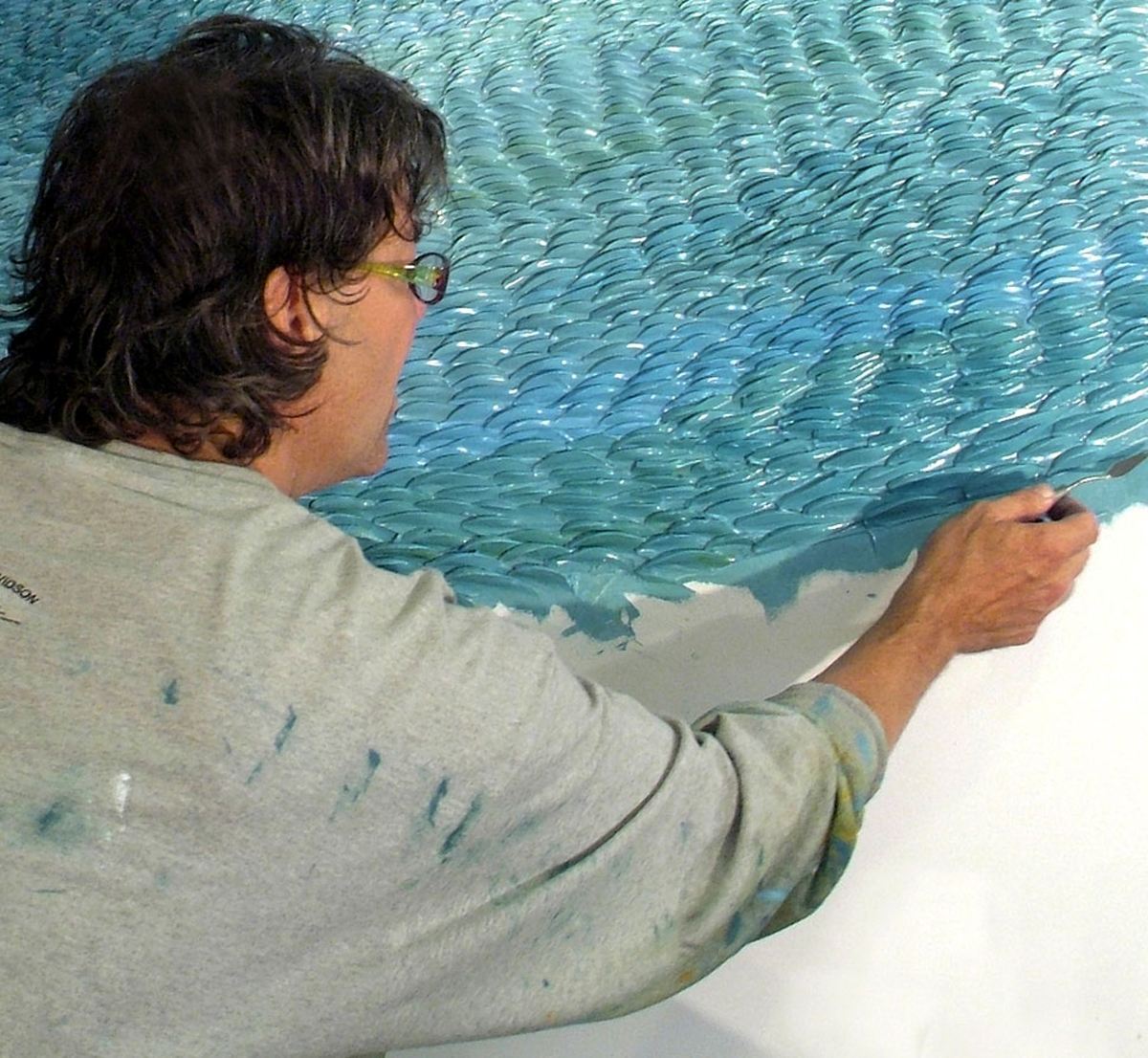 About Francis Mesaros
Mesaros was 11 years old when he started drawing everything that he saw. The first thing he drew was in 1966; a replica of an advertisement of the Wrigley spearmint gum man. At age 14 a mason that his mom and dad hired to repair the front steps saw his artwork. He asked young Francis to make a painting from a small picture of two pheasants taking flight from a corn field. Young Francis completed his first painting with oil pastels. The mason gave him $30; which was $30 more than he was asking. Mesaros remembers: "I would have given it to him for free." .
Mesaros recalls in his youth, the frequency of his father's speaking Hungarian and learned as much of his father's tongue as he could. While raised in the traditional Roman Catholic Church, which is a "beautiful, beautiful method," he says. He believes there are other "beautiful methods" by which one can aspire to spirituality. "When you're brought up in a tradition, it has to do with a method and pointing you in a direction."
As a child the solitary activity of painting came naturally to him. As proof of this Mesaros painted a tightly composed landscape at age 15. Even then he was interested in textural effects; the painting was executed with palette knife, brush and the artist's fingers. Mesaros used it to give dimension to the portrayal of marsh grasses. He emphasizes that while he has painted since childhood, over the years his art has changed from rote representation. It now reflects a spiritual reality that has come to mean more to him, he says, than outward appearances.
Mesaros divulges that as a boy he felt an acute existential loneliness. He prayed for a sign of God's presence in the world. A response came in the form of an interior locution when he was 19. He was in his room praying, when "a feeling came into the room and it scared me." He saw no one, but felt someone, some thing, standing near, Then the presence enveloped him. "I had a feeling that I was being held by a mother, given the love and protection of a father."
Out of nowhere, it came to him that his brother Robert, who was in the Air Force, would soon die. Suddenly, as though reliving the moment, Mesaros remembers thinking, "No! Don't let him die! Let me die instead!" Then, quietly, the beautiful feeling that embraces us all spiritually replied, that's not the way it will be. The feeling passed, and Mesaros opened his eyes to the familiar surroundings of his bedroom. One week later, 22 year old Robert was killed in a car crash. Not long after that, Mesaros painted Inferred Pier to express the loneliness felt by the death of his older brother. Mesaros sold his work here and there, but life for him then was not all about painting. His father had taught him spiritualism and prayer. Mesaros wrote; 'When I was just a little boy my Father used to say to me. Two heads son are better than one, so love your brothers more than me. Time went on, I played life's games, and kept looking ahead I felt no shame. Never wanted to think life could be so insane. Life took a life that terrible day. All I have is a memory of love and a thought of happiness. I thought I had none. Now I'm older I see life's ways, will always be different always change. But time doesn't matter it's all the same."
He was about 27 when he painted "Winter Spider" Inspired by a potted plant hanging inside his steamed window during winter. This began the painting that got him thinking in an abstract vein. It was also his first monochrome, and was painted entirely with a palette knife. It was almost the painting that didn't get finished. "I quit the work for two months. I thought I could not find a passion for it." An associate's enthusiasm for the work-in-progress gave Mesaros the push he needed to complete it. The seminal work is still in Mesaros' collection called "Paintings from a Life". This collection of paintings comprises 14 works that are his diary spanning 43 years, to when he began the technique now known as Pancture® in 2008. The illustrated pamphlet was designed to accompany the works of art and explain why they were painted, how they helped him to heal and effectively have enabled him to move on. "God has given me another reason to live. I do not doubt this, I am grateful."
Love & Healing --From Eternal Ocean to Caribbean
At the age of 28, Mesaros found Carol and found love. They married and had 16 years together before Carol died of cancer at age 43. She was everything to him. They shared a belief in the miraculous and made pilgrimages as far away as Lourdes and as near as Conyers, Ga. "Carol had a great sense of humor, was levelheaded and down-to-earth", he reminisces. "She was my soul mate and confidante." The expiration date on the best of life's experiences is always short, and Mesaros says that he is grateful he and Carol made the most of their time together. He painted throughout his marriage and when things got tough, he made paintings that reflected the state of his heart. Mesaros recalls the trauma of nursing his wife in the final weeks of her illness. "This person is looking to you for comfort, and although you're crushed inside" -he pauses, gathering his thoughts, "I learned a lot and went upstairs and painted. The "Paintings from a Life" exhibit, and the pamphlet explaining his life and work reflects all this."
Pancture® Paintings Masterpiece -- Starts from Here
Mesaros invades your personal space and you find yourself okay with it. Within four minutes he's touching your hand or removing the hairs that have fallen in your face much like a lover or longtime friend. He recounts his life story, replete with loss of loves and conquering of fears, with guileless tears falling from his eyes, but he doesn't want your pity. He'll tell you the same story three days later as if he'd never told it before in his life. He doesn't give a damn; and he cares so much.
This is a Mesaros Pancture®: palpable passion and gestural madness which culminate in a studied, elegant, dynamic canvas. Every stroke is measured and intentional conspiring to create an extravagant image of impressive detail and allure. Mesaros' Panctures® literally leap off the canvas. Echoing qualities of Picasso and Dali's extravagant style, Mesaros' work refutes the mundane and executes the extraordinary.
All of Mesaros' work takes place over an ocean. Consumed by the reflections of the water, he begs us to frolic naked at twilight – better yet, midnight – towards the water that beckons you to bare your trembling soul as Mesaros does his. Mesaros chooses to sculpt with oil paints. His sole tools are palette knives; in his hands they are the perfect instrument to portray the energy of the sea and they are the only instrument that allow him to spontaneously depict his feelings as they run through him. His ability to capture the intricacy and depth of color in his work come from a controlled frenzy of the senses, a paradox which, he insists, is absolutely intuitive. "This is my life's worth, without this I am nothing."
He picks up a palette knife. "This is going to be a masterpiece," he says of the newly begun Pancture® on the easel. "This is going to take over five thousand strokes. By the time next week comes, I won't be able to walk straight up, but I'll be all right."
He deftly lifts a semi-circular crescent of paint from the palette and begins applying it to the canvas. "I'm here alone, day after day and week after week," he says. Working rapidly in measured, rhythmic movements, he lays the paint on bit by bit in a tidy row of turquoise scales.
Your Life – Your Legacy
"Everything's about how you focus, and where you put your attention. It's as simple as that," he explains. "It's very, very meditative." The studio is silent. Another artist might put on a favorite CD to work by, but that's not Mesaros' style. "Nope. I think about life, and I think about our position in the world. I think about our society, and the human species as a whole, what we're trying to achieve, and where we are in the big book. And I pray."
He also sets goals for his art. At present he is in the midst of negotiations for shows on three continents, and has completed a 6 foot by 5 foot Pancture® entitled, "Majestic Eternal Ocean". This Pancture® is presented herein with the artist standing next to the work. Mesaros was invited to show his works at Art Asia, a recent adjunct to the widely recognized Art Basel-Miami. He sold two large seascapes to Guy Laliberté, the founder of Cirque du SoleiI. The sale marked a pivotal moment, certainly the most sensational in a series of events that have him hoping for a turnaround in an emotionally difficult life. As his fortunes have turned, so has his signature use of the palette knife, the defining gesture in his works. Mesaros believes that single shift made all the difference in 40 plus years of painting. And in fact, his Panctures® have been selling at increasingly higher prices, and to increasing recognition. Mesaros first displayed this technique at a Gallery in Vero Beach, Florida. From the moment the downtown gallery's owners began to hang his work, two Panctures® sold before they could find a place on the wall. They asked Mesaros to bring something to replace them with, Mesaros brought a Pancture® in what he considered too meaningful to sell, and put a ridiculous price on it. The next day, it sold!